Featured Item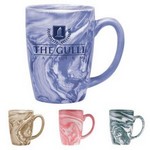 16 Oz. Palermo Collection Mug
This mug features an elegantly marbleized design & a comfortable, easy grip handle. Please note that due to the individual craftsmanship of these mugs, variances do occur in the color portions of the ...
$3.25 - $4.65
Welcome!
Welcome to our new website. We are promotional product experts committted to your success... We've got lots of news to share with you. Most importantly, our website is not intended to replace our one to one contact with you. At, Creative Concepts, we provide creative solutions and leading edge promotional products that maximize your marketing stategies. With an online catalog of over 500,000 items waiting to be personalied with your corporate logo or message.Our new site offers some very powerful tools designed to get you information and ideas when it is convenient for you. We are glad you're here and we hope you'll find our self-service web site as satisfying and productive as working with us in person. Remember,we are always just a click away to you the personal service we're known for. Call,fax,or email us for a prompt response.
84 Walden Way Milford,MA 01757
Phone: 508-381-1621 Fax: 508-381-1620
"Our business is Promoting your business"